Conference Dinner
Conference dinner will take place Thursday at 7h30pm at the Restaurant of the Union Nautique de Marseillaise.

Afficher une carte plus grande
Boat Cruise
The boat cruise will take place on Tuesday 9th July setting off from Marseille Vieux-Port at 4 pm.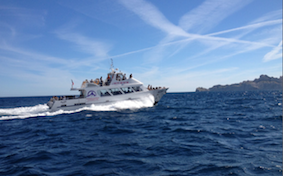 Please note that boarding will start at 2:45 pm so that the boat can leave at 3 pm sharp. Don't be late! Boarding takes place at the corner of Quai du Port et Quai des Belges (see map and picture below).
The cruise includes a guided visit of all calanques between Marseille and Cassis. We will first navigate close to the islands located in front of Marseille, Frioul and the Castle of If. Then, after passing Cape Croisette, the boat will enter each calanque, up to the bay of Cassis and the flamboyant Cape Canaille. The boat will anchor in one of the calanques for a swim in the sea. Don't forget your bathing suit!
We will return to Vieux Port around 6 pm.